SHITLIP, GEORGIA — When someone asks 30-year-old right-wing YouTuber Matthew Palumbozo about nearly any subject, he prides himself on being able to relate his answer back to the Constitution, and more importantly, he says, to the "freedoms and liberties" it protects.
"Nobody is a bigger fan of the Constitution or Bill of Rights than me. I frickin' love them," Palumbozo said during his podcast's opening monologue this weekend. "In particular, I have such a hard-on for free speech. I hate cancel culture mainly because it tries to stifle free speech, which again, I believe in more than any other right the Constitution promises. Except the gun one, of course, because guns are literally the only way we have freedom to begin with."
Despite saying that he doesn't "agree with everything they think or say 100%," Palumbozo famously defended the tiki torch carrying white nationalists who protested the removal of a confederate monument and screamed about Jews not replacing them a few years ago. At the time, he said that even though he "personally finds Nazis disgusting," he would defend their right to say whatever they wanted to.
"And not just because they typically vote for the same guys I vote for, either, libs," Palumbozo insisted. "It's because I love freedom of speech probably more than I love my own mother!"
Matthew surprised his audience this weekend, though, when he talked about Olympic hammer thrower Gwen Berry. Ms. Berry made international headlines over the weekend when she protested during the podium ceremony after she took third place in the qualifying event. Ms. Berry, when the American national anthem began playing, turned her back on the American flag and draped a t-shirt around her back that read, "Activist Athlete."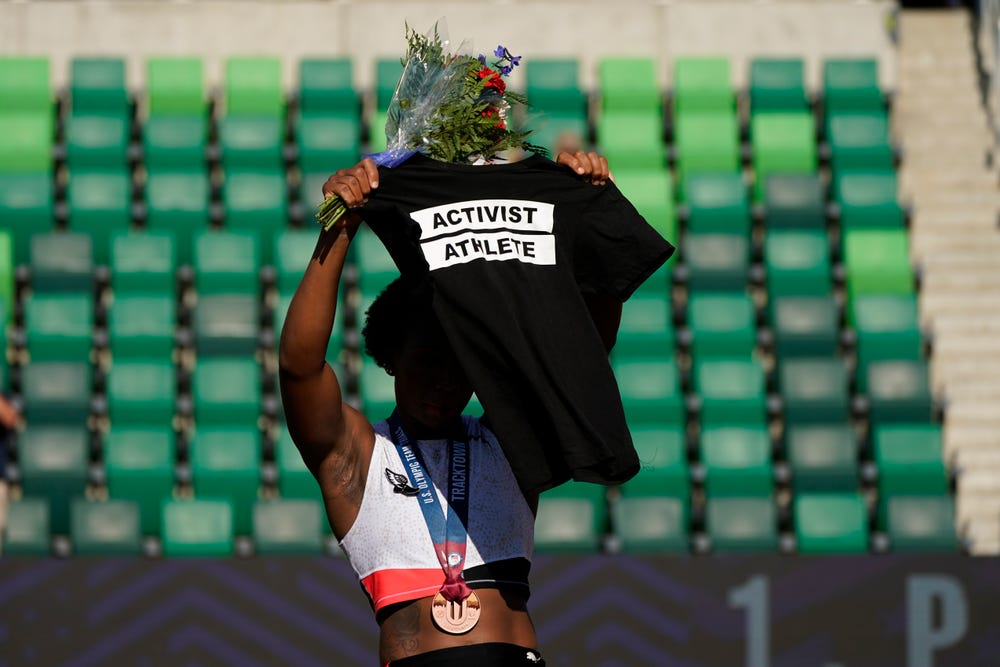 Despite saying later that she was protesting the anthem because she felt it was a "set up," Palumbozo laced into Berry, demanding she be deported. Berry's outrage stemmed from the fact that typically, countries' national anthems are only played once, at the beginning of the day's events, and she felt disrespected in that moment. Despite her demonstration, which would certainly be covered by the First Amendment, Palumbozo said that Berry should "have her U.S. citizenship revoked" for her transgression.
"That freedom rag you turned your back on, Gwen, is literally the only thing standing in the way between America and us all dying of full-blown socialism," Palumbozo howled. "How dare she disrespect a country where 30% of the population doesn't think her vote should count if it's for a Democrat? How could she insult a country where millions of people would look for every excuse possible if a cop killed her in public, on video, to blame her for being shot?"
Palumbozo said he would personally call his congressional representatives every day until Berry's slot on the Olympic team is terminated.
"I hate cancel culture and everything it stands for, fam. What I don't hate is punishing people with consequences for speech that I don't like," Palumbozo admitted. "Gwenn Berry needs to realize that soldiers died in wars defending her right to say what she wants, and that she owes it to those people to only say things she thinks no one would be offended by, especially conservatives, because God made it 'Fuck YOUR feelings, snowflakes,' not 'Fuck OUR feelings because we're snowflakes.'"
Follow James on Instagram.
Subscribe to James' Patreon for ad-free satire.
---
Writer/comedian James Schlarmann is the founder of The Political Garbage Chute and his work has been featured on The Huffington Post. You can follow James on Facebook, Spotify, and Instagram, but not Twitter because Twitter is a cesspool.