Rep. Marjorie Taylor Greene (Q-GA) lashed out at President Joe Biden because he chose today for a visit to Ukraine. In more than one tweet, Greene expressed her extreme displeasure with Biden, and proposed what she called a "national divorce," which would separate the states in the union into blue and red factions, depending on who they chose in the last presidential election.
This is incredibly insulting.

Today on our President's Day, Joe Biden, the President of the United States chose Ukraine over America, while forcing the American people to pay for Ukraine's government and war.

I can not express how much Americans hate Joe Biden. pic.twitter.com/nHXzG67YOL

— Rep. Marjorie Taylor Greene🇺🇸 (@RepMTG) February 20, 2023
People are absolutely fed up and disgusted with left wing insanity and disaster America Last policies.

National divorce is not civil war, but Biden and the neocons are leading us into WW3, while forcing corporate ESG and gender confusion on our kids.

Enough! https://t.co/7YSzwFuPeo

— Rep. Marjorie Taylor Greene🇺🇸 (@RepMTG) February 20, 2023
Greene's proposal would, quite ironically, keep her own home state of Georgia with the union, and it says nothing about people who live in California but voted for the Republican candidate for president. However, if she should decide she wants to go forward with the first real attempt to break up the union since her side lost the first Civil War, it appears Greene has one attorney who will help her. In a brief written statement Greene's lawyer, who represented her in both of her personal divorces, offered his services to her once again.
"I would just like to remind Rep. Greene that she was quite pleased every other time I represented her in divorce proceedings," Harvey Legalese, Greene's divorce attorney, said in his statement. "I will even give her a 30% discount on my fees. Of course, first I need to make sure I can't be disbarred for treason. However, I don't foresee that being an issue with the radicalized Supreme Court we have now, should it get that far."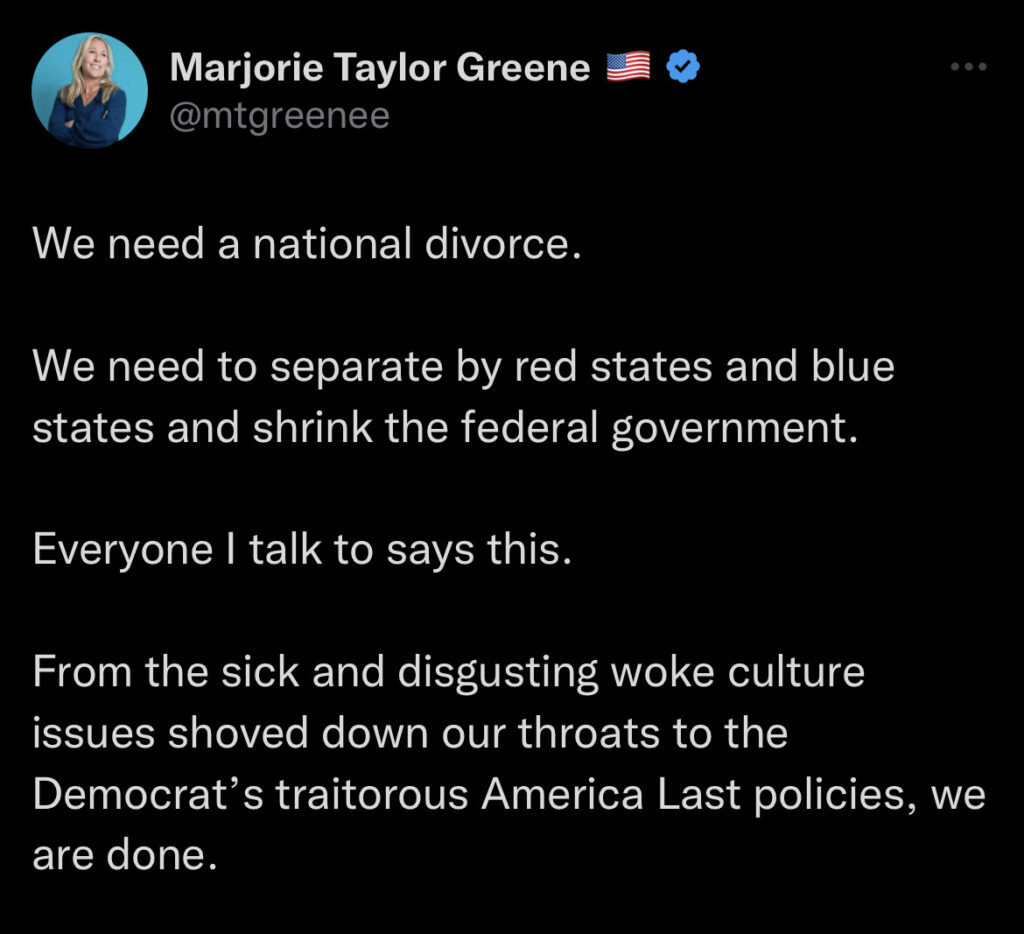 Should Greene not manage to get a national divorce hammered out by the end of next year, she said she has a "solid Plan B" to work with.
"I'll just tell Donald Trump, when he is rightfully elected back to his throne in 2024, that he has to kick out every blue state," Greene said on Newsmax this morning. "Problem solved, right there. And I know for a fact Mississippi and Alabama don't need California's tax revenues; they can just let a few million people in their states die from lack of bootstraps, and we'll show the blue states how Christ-like we are then!"
---