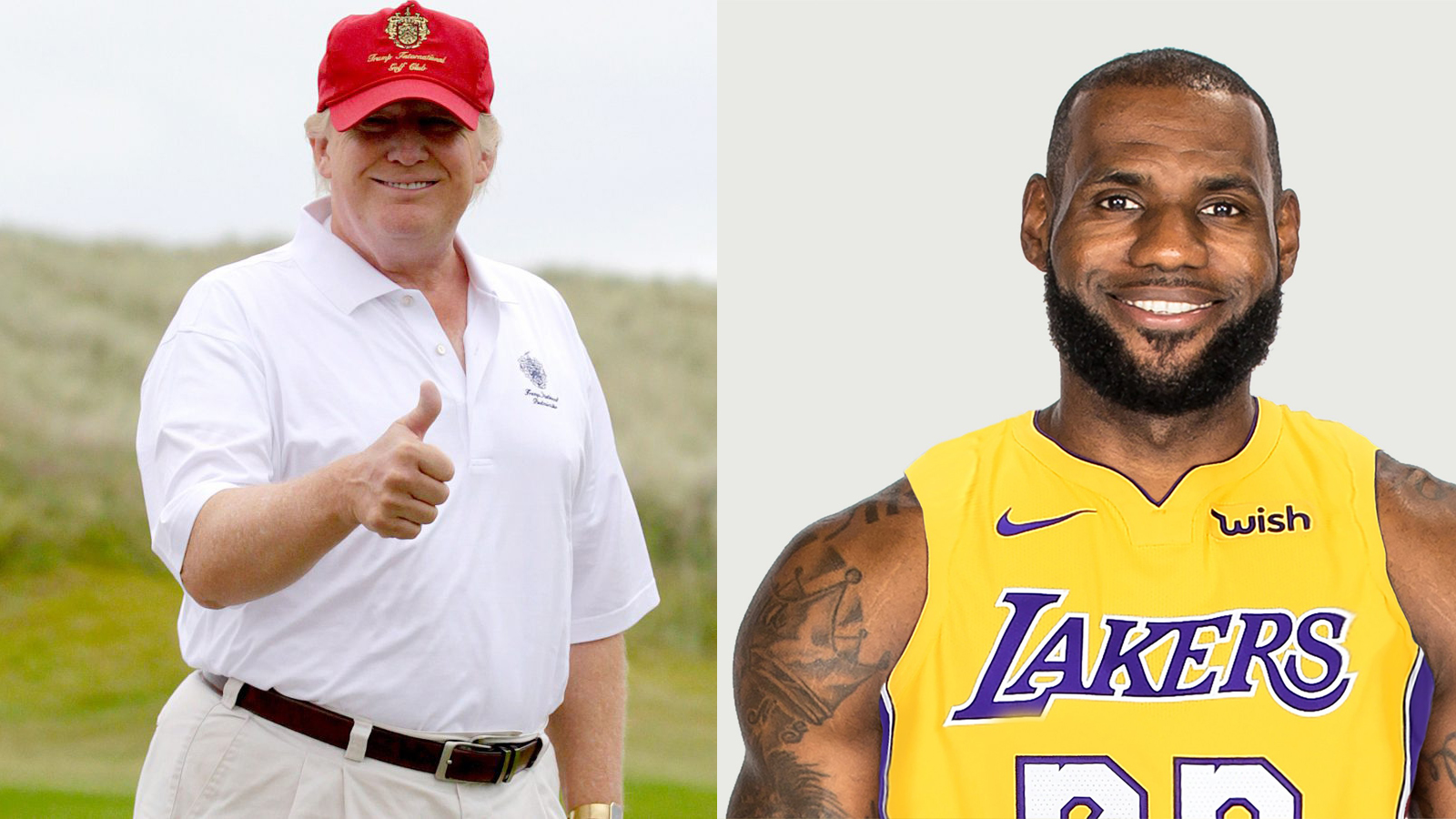 WASHINGTON, D.C. — Last Friday, Donald Trump — the most powerful man in the world when Vladimir Putin lets him be — lashed out at Lebron James, a professional basketball player, and Twitter erupted back at him, but today he issued a near apology and explained his aggression toward the black athlete.
"It's not my fault okay? I've been preconditioned to think black people aren't as smart, BUT I AM NOT RACIST, OKAY," President Trump shouted at reporters in the Oval Office. "I just happen to think my pasty, doughy, white-cum-orange DNA just naturally makes me smarter and superior in all ways both physical and intellectual. But I'm sorry for insulting Lebron, okay?"
President Trump angrily lashed out at Los Angeles Laker star James after the basketballer appeared on CNN to be interviewed by anchor Don Lemon. When the subject of Trump came up, James said he thought the president was using heated, racially charged rhetoric to divide the country. Apparently, Mr. Trump took great offense to this, and took to Twitter to vent his anger in the most presidential and adult, mature way possible.
See President Trump's overwhelmingly docile, well-mannered, gentile tweet, below:
Lebron James was just interviewed by the dumbest man on television, Don Lemon. He made Lebron look smart, which isn't easy to do. I like Mike!

— Donald J. Trump (@realDonaldTrump) August 4, 2018
"Look, I'm sorry everyone, alright? I really am," Trump said after an aide brought him a bucket of KFC and a two-liter bottle of Diet Coke which he immediately shotgunned like a beer down his throat. "I guess, I still get a little jealous when I see someone who has a bigger one than me."
Several reporters could be heard tamping down their gag reflexes.
"A bigger one, sir? What did you mean," one reporter asked, suppressing her impulse to vomit as much as possible.
---
---

"You know, he's black and I'm white," Trump said, trailing off.
"And? What does that mean, sir? What are you getting at," the reporter pressed.
"I'm just saying it's not fair," Trump explained. "I'm white, I'm supposed to have all the advantages. But now I come to find out some urban hippity-hop ball player has a bigger one than me? Is it not enough that we let them vote and play games? Do they have to go and have bigger ones than us? That's NOT how Mommy and Daddy explained America to me!"
Still, despite his attempted explanation, Trump was not able to explain what he meant to the reporters in the room.
"Sorry, sir, but it sounds like you're saying you attacked him out of some petty spiteful jealousy over his," a reporter started to speak, but trailed off.
Trump seized on the moment.
"Bank account? YES. EXACTLY. FINALLY YOU GET IT," Trump said. "Fake billionaires get awful touchy about being insulted by real ones."
Just then, a staffer came into the room and told President Trump a card for him, from Michael Jordan, had just been received by the receptionist, and he handed it to the president.
"Dear Mr. President," Trump read aloud. "I don't like you. Just FYI. In case you were wondering. Bitch."
This story is developing.
James' satire is found on: The Political Garbage Chute; HuffPost, Alternative Science, Alternative Facts, Not Really.News, The Pastiche Post, Satirical Facts, and Modern Liberals. 
---