Last week, former President Donald Trump attempted to play kingmaker again, and waded into a hotly contested Republican Senate primary race. Trump seemed to upend the political calculations of his party when he endorsed fellow TV carnival barker Dr. Oz over another candidate many felt was more aligned with Trump's own MAGA brand of politics.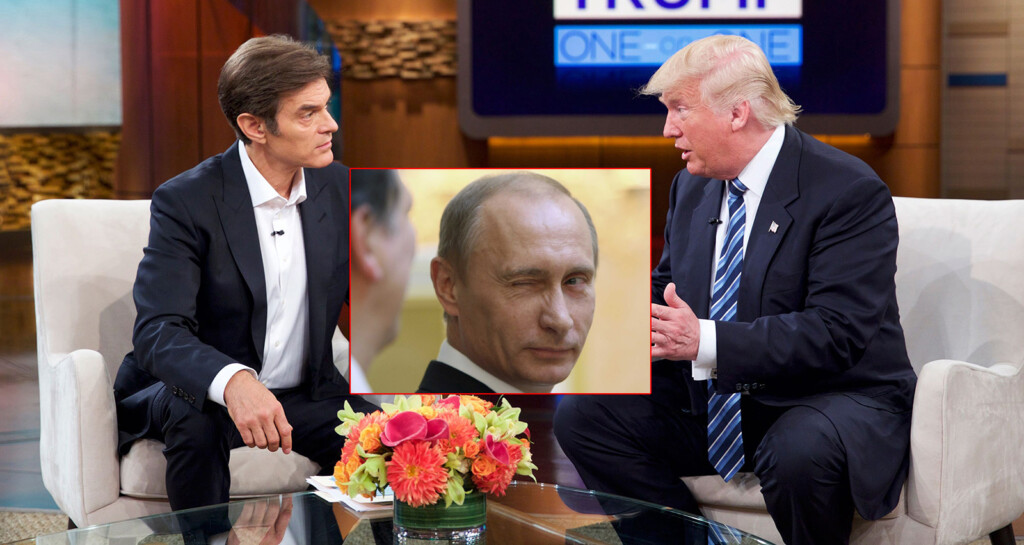 While pollsters conduct surveys of voters to see just how much sway Trump still has over the Republican electorate, Oz picked up another crucial endorsement. This time, it was Trump's former employer, Russian President Vladimir Putin, who gave his thumbs-up to Oz's senate candidacy. At least, Putin endorsed Trump's endorsement, and Oz is taking that as Putin's endorsement of his campaign.
"Dr. Oz was pleased this morning to awaken to the news that his campaign has picked up yet another vital endorsement for anyone seeking to be elected by Republican voters in 2022," a letter from the Oz campaign begins, "To get the endorsement of a guy who pays the salary of the guy who gave you such a bigly endorsement to begin with is simply a dream come true."
Putin was asked this morning on Russian State TV if he'd like to talk about anything other than his illegal invasion of Ukraine and the tens of thousands of innocent civilians that have been killed as a result. The Russian dictator said he had been thinking quite a bit about American politics lately, and that he was pleased to see his former employee trying to influence elections. Putin stopped short of specifically endorsing Oz, however. He did say that "in general" he was "fine" with whomever got Trump's endorsement.
"Honestly I don't care too much about elected offices that aren't the presidency, but sure, I'm cool with whoever Tiny Hands chooses, in general, and I'm fine with just about anyone he selects," Putin said. "I trust my corpulent orange fuckmuppet to always put my interests first, and he knows what kinds of tapes I can release if he doesn't."
Dr. Oz is currently competing to be the Republican nominee to replace outgoing Senator Pat Toomey of Pennsylvania.
https://youtu.be/rKgJ9Jy8npI
Follow James on Instagram.
Subscribe to James' Patreon for ad-free satire.
---
Writer/comedian James Schlarmann is the founder of The Political Garbage Chute and his work has been featured on The Huffington Post. You can follow James on Facebook, Spotify, and Instagram, but not Twitter because Twitter is a cesspool.