Ever since she was sworn into office in January of 2021, freshman Congressmare Marjorie Taylor Greene (Q-GA) has required her staff to abide by certain rules. According to sources with knowledge of the situation, Greene's employment guidelines are simple, but she has a zero tolerance policy for people who violate them.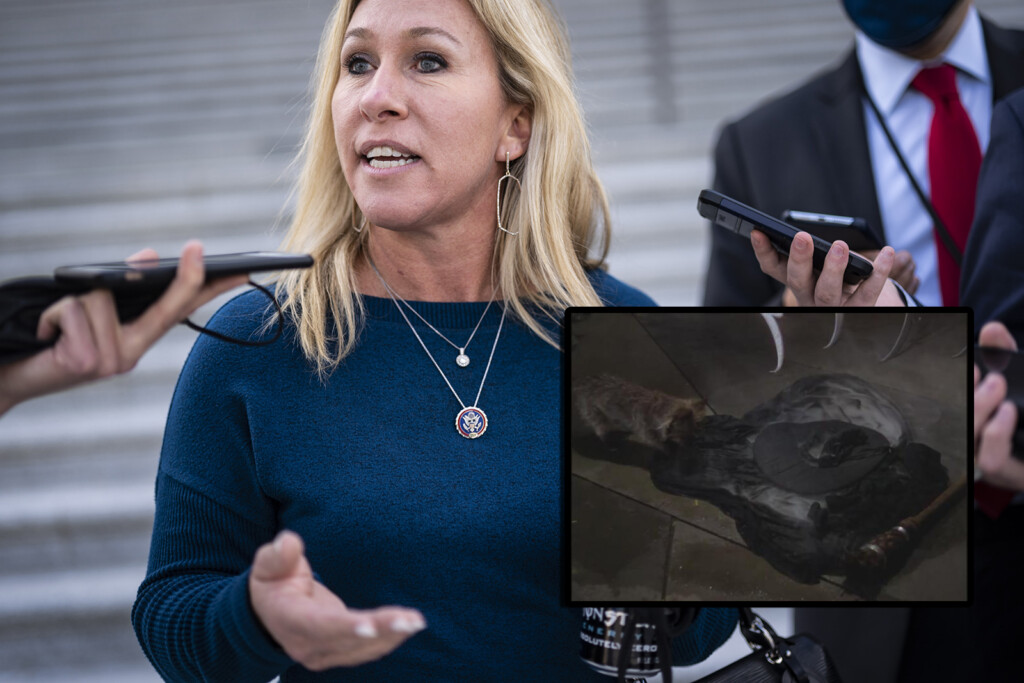 We spoke to several of Greene's staff and stable hands and confirmed that she requires all aides to sign an agreement, swearing to abide by her rules. We were told that Greene's staffers are forbidden from mentioning masks or vaccines, and they're all required to log at least thirty work hours a week looking for evidence of Secret Jewish Space Lasers in the National Archives.
According to everyone we spoke to, there is one rule that, if broken, results in immediate dismissal. Reportedly, nobody is allowed within twenty feet of Greene if they are drinking or holding any water.
"When she first told us about the rule, given how awful she smells up close, we just figured she didn't like bathing," a source told us, "but the people at the barn she sleeps in while she's in D.C. swear that they brush her every night, so I don't think it's a grooming issue that keeps her so terrified of water."
While her staff isn't sure why Greene doesn't let them have water around her, some have even indicated they believe she metes out punishments that are quite outside the scope of normal boss-employee relationships.
"Marjorie would make us call her The Wicked Witch of QAnon of sometimes, whatever that means, and she was super-duper obsessed with finding out who dropped a house on her sister," one aide, speaking on the condition of anonymity told us. "We've heard rumors that if you break the no water rule, she has one of her flying monkeys pick you up and take you to God only knows where."
https://youtu.be/Ub1hszqs3ug
Follow James on Instagram.
Subscribe to James' Patreon for ad-free satire.
---
Writer/comedian James Schlarmann is the founder of The Political Garbage Chute and his work has been featured on The Huffington Post. You can follow James on Facebook, Spotify, and Instagram, but not Twitter because Twitter is a cesspool.