On Thursday, Florida Governor Ron DeSantis (Q) helped his state join other Republican-controlled legislatures that have recently adopted harsh new bans on abortion. DeSantis signed a law that bans abortion after 15 weeks, well before the point of medical viability, and without exceptions for rape or incest.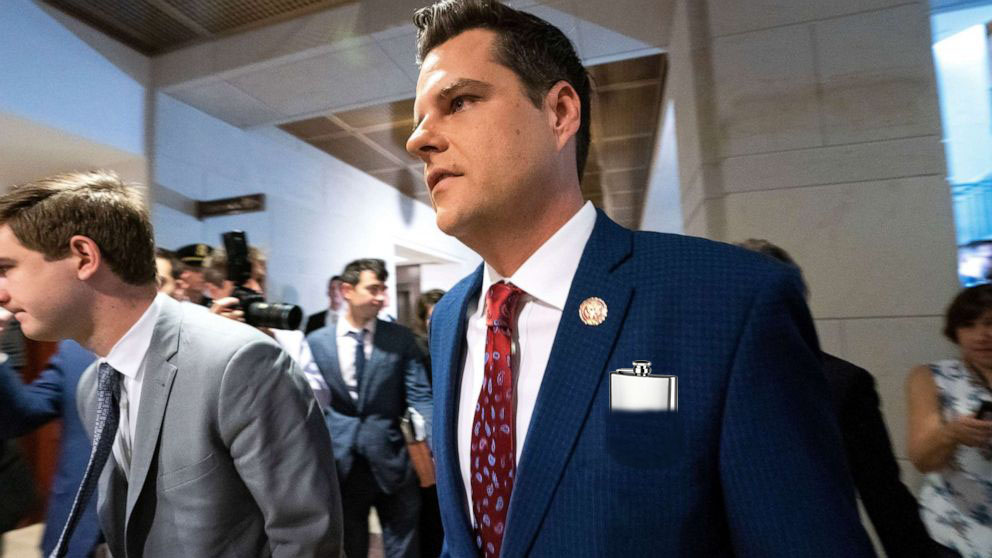 While DeSantis has argued he signed the bill into law to protect the unborn, one of his good friends supports the ban because he thinks it'll give him the chance to date a lot more.
"HI, I'M MATT GAETZ, AND I AM LITERALLY UNABLE TO MODERATE THE VOLUME OF MY VOICE," Congressman Matt Gaetz (Q-FL) told an excited crowd at a church this morning, "AND I AM EXTREMELY PROUD TO SUPPORT THE NEW ABORTION BAN SIGNED BY MY GOOD BUDDY RONALD DESANTIS!"
Gaetz called himself a "bigly champion of the youth, especially the youthful, buxom ladies." He said, though, that he also has a "much  more personal-er reason" for supporting Florida's abortion ban.
"BUT ALSO, I LIKE THIS LAW BECAUSE IT MEANS A LOT MORE YOUNG LADIES ARE GONNA GET BORNED! I LOVE THAT A WHOLE FREAKIN' LOT, GUYS," Gaetz said, before noticing that some in the crowd were a little put-off by his remark. "OH, DON'T GET IT TWISTED! I'M NOT SAYING I"M GOING TO TRY TO DOINK BABY GIRLS! THEY GOTTA GET A GOOD 15 OR 16 ICE CREAM SEASONS ON 'EM FIRST, FAM! I LIKE THEM YOUNG, TOO YOUNG EVEN, BUT NOT INFANTILE, FOR GOODNESS SAKE!"
Sipping from a flask during his speech, Gaetz went off-script and mused about what else his friend DeSantis might accomplish.
"HEY! HEY! HEY! HEY! SHUT UP. SHUT UP! I SAID SHUT UP! LEMME JUST SAY SOMETHING, OKAY? WHAT IF RON ORDERS DISNEY TO SHUT DOWN EPCOT CENTER AND TURN IT INTO A FORCED BIRTHING CLINIC? HOLY SHIT, TALK ABOUT OWNING THE LIBS," Gaetz howled. "THIS MAN IS SO AMAZING, I MIGHT LIKE HIM EVEN MORE THAN DONALD TRUMP!"
Hours later, after reportedly receiving an email from Mar-A-Lago, Gaetz issued a brief statement.
"Earlier today, I spoke at a prayer gathering and made the mistake of implying I could like someone better than Donald Trump. That was wrong of me, and I hope my Goodly King Donald can forgive this transgression against his honor."
Follow James on Instagram.
Subscribe to James' Patreon for ad-free satire.
---
Writer/comedian James Schlarmann is the founder of The Political Garbage Chute and his work has been featured on The Huffington Post. You can follow James on Facebook, Spotify, and Instagram, but not Twitter because Twitter is a cesspool.