"I wear this 45 hat everywhere I go for two reasons — loyalty to Trump and to remind people that your IQ doesn't define how intelligent you am." – Rep. Lauren Boebert (Q-CO)
WASHINGTON, D.C. — Qongresswoman Lauren Boebert of Colorado isn't what most people would define as an "intelligent," or "smart" human being, but not because she just barely got her GED a few months before getting elected. Plenty of truly intelligent humans end up getting their GED rather than finishing high school In Boebert's, case, however, Rep. Boebert has been certified by several leading research firms as one of the top two least intelligent members of Congress.
Despite not holding any advanced degrees, much less in the fields of biology, medicine, or epidemiology specifically, Rep. Boebert has, like so many of her fellow Republicans, taken to blasting Dr. Anthony Fauci frequently on social media and in interviews. Fauci has been a target for pro-MAGA politicians since the height of the pandemic last year, when it became apparent that Dr. Fauci didn't always agree with what former President Donald "Mushroom Dong" Trump was saying or suggesting during COVID-19 task force media briefings.
Just this morning, Boebert lashed out at Fauci for discussing gun violence as it relates to public health, insulting his knowledge of biology and infectious diseases in the process. In a tweet, Boebert asked why "Fauci is commenting on 'gun violence' at all' and then asked sarcastically if he should "stick to what he knows…once he finds out what exactly that is."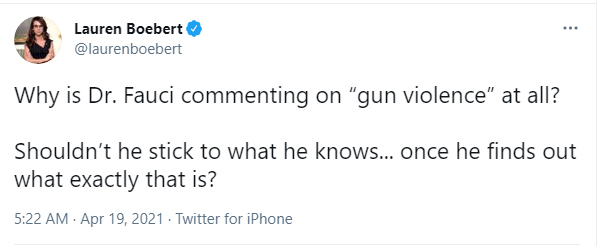 Asked about her tweets and insults this morning as she arrived for work, Boebert said she's just "exorcisting my First Amendment rights" and that she won't "bow to pressure from the Fauci cult or cancel culture Antifa mob."
"Coastal elite liberals may not like this — but stupid people like me are entitled to our opinions, and are protected by the Constellation and it's wonderful Bill of Rights to give you our opinions, no matter how stupid they are," Boebert insisted. "I wear this 45 hat everywhere I go for two reasons — loyalty to Trump and to remind people that your IQ doesn't define how intelligent you am."
Questioned as to what gives her the idea that Fauci isn't an expert whose expertise should be truted, Boebert simply bent over and farted at the reporters. It was later confirmed that rectal sneeze was the second most intelligent thing Rep. Boebert has uttered out of either her top or bottom brain. The most intelligent was when she correctly said her name while taking the oath of congressional office.
"Patriots know that Dr. Fauci is clearly a sleeper cell agent for the George Soros Brigade. They want to fundamentally change America from the far-right theocracy the founders wanted us to be, at any cost," Boebert rambled. "If this isn't true, then why do the voice in my head keep telling me it is, huh? CHECKMARK, LIBTARDS!"
Follow James on Instagram.
Subscribe to James' Patreon for ad-free satire.
---
Writer/comedian James Schlarmann is the founder of The Political Garbage Chute and his work has been featured on The Huffington Post. You can follow James on Facebook, Spotify, and Instagram, but not Twitter because Twitter is a cesspool.